OneDirectory for Microsoft 365
Enterprise people search for
Microsoft 365
OneDirectory brings fast, visual people search to Microsoft Office 365. Search thousands of employee profiles in a split second. Then explore the results in powerful ways, with smart tags, group tiles, beautiful profile cards, and responsive list views. It's unlike any people search tool you've used before — see below how we're different.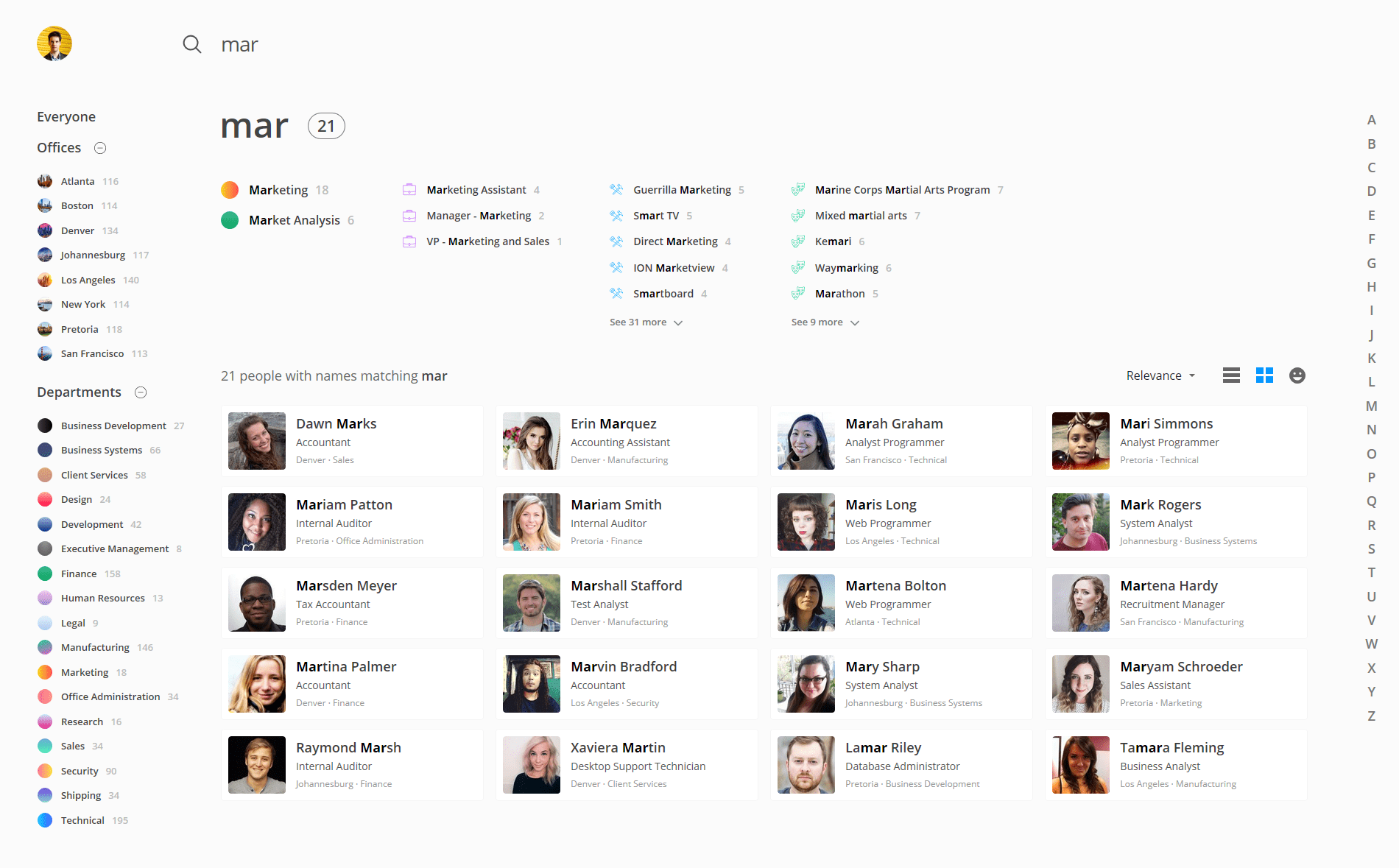 Built for Microsoft 365
With a search engine designed specifically for Microsoft 365 and Azure Active Directory, OneDirectory allows you to quickly find users, offices, departments, skills, interests and more.
No complicated search queries
Advanced search is for advanced users. But what about the rest of us? With OneDirectory, you don't need to build complex search criteria just to find a colleague.
A natural search experience
Everything in OneDirectory is contextual and clickable so you can flow through your employee directory naturally. No clutter, no page reloads, no waiting.
Helping the world's best brands since 2011
"OneDirectory is a visually appealing way for us to showcase our talented employees. I love being able to search and sort people in our agency."

Joe Calabria, VP, Director Information Technology
Concentric Health Experience
Enterprise people search, reimagined
Finally, people search that just works.
You're looking for Mary

in your corporate directory so you type 'mar' into the search box.
But you see hundreds


of (badly ranked) results, and they're not all Mary's.
Every person in the Marketing department. Every employee in the Maryland office. Every Marketing Assistant, Market Analyst, and everyone in your company skilled in market research. Dan who likes martial arts movies is in there too.
You don't want to see hundreds of people. You just want to find Mary and get her phone number.
Why is directory search so bad?

---
We set out to fix this people search problem, and the result is OneDirectory for Microsoft 365 — employee directory software with search that just works


Search relevance
A better way to find people at work.
Text-based search works great for sentences, but not so great for people information. Why? Because people data is structured data.
OneDirectory skips the match-your-search-query-against-every-possible-field-and-then-rank-the-results algorithms of yesteryear, and instead, smartly groups your most important people data to help you navigate your search results in a more natural way.

Advanced search?
It's time we killed employee directory "advanced" search.
Most employee directory apps give you powerful search functionality. Advanced search forms, query builders, field matching rules, sorting options, display templates and more.
But you don't need 'power' to browse your company. You need speed so you can get back to real work.
Plus, it would be nice if people search was a little less frustrating.
OneDirectory's unique approach to search means you don't need to build complex criteria just to find someone at work.

Still constructing "and/or" queries to find coworkers?
If your employee directory software wants you to fill out a search form just to find a person, you're doing it wrong.

Still choosing specific fields to match on?
Specifying field or "property" names in your search criteria gives you flexibility, but kills your productivity.

Still specifying sorting options up-front?
Sorting should happen after you get your search results, not before.

Is your employee directory asking you to do all the hard work?
Configuring refiners, selecting display templates, specifying matching options ("starts with", "contains") are all a waste of your valuable time.
Natural search
A natural search experience: flow through your directory.
OneDirectory allows you to flow through your employee directory.
Everything is clickable and opens instantly — names open profiles, offices & departments open team homepages, skills open a dedicated skill page.
Job titles show others with that title, Teams links open a Microsoft Teams chat. Numbers dial, maps expand, emails email (naturally) and it all happens without page reloads or waiting.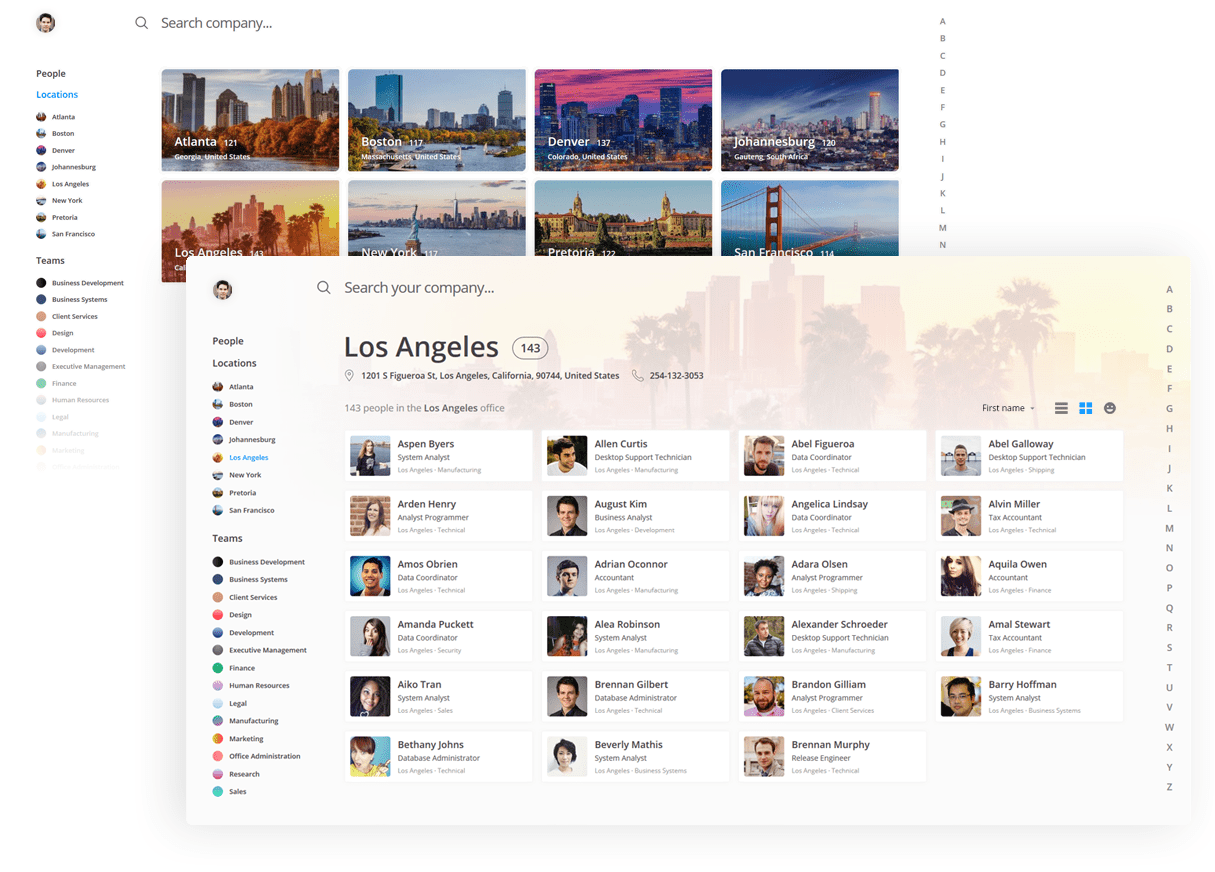 Fast employee directory search
Efficient people search is about more than just search speed.
A fast search algorithm is important, but it's just a start. Everything about the OneDirectory experience is designed to help you find and browse coworkers quickly and efficiently.

Smart loading — the reason our interface is so quick.
Incremental loading is nothing new. But we take it a step further by pre-loading and re-using specific chunks of user information.
Open a profile? Faster than you can blink. Offices and department pages? Already pre-loaded. Change a search result view? Renders instantaneously.
Try it and see for yourself.
Search result views
Different views for different tasks.
Instantly flip between three different search result views (with more in the works — stay updated). Card view gives you a high-level overview, the "photo directory" view helps you connect names and faces, and the list view lets you dig a little deeper.
Employee photo directory
Put faces to names or names to faces.
Sometimes it's hard to remember a name. Especially when you work with so many people across departments and remote offices. Using profile pics from Microsoft 365, the photo directory view helps you put names to faces — or the other way around.

Employee list view
The ultimate employee list.
See more profile info at once with the employee list view. Every field is clickable: contact numbers, offices, departments, names, job titles. Columns sort instantly, offices and departments show their team page icons, and profiles open right where you are so you don't lose your scroll position.

Employee card view
No frills here. Just a simple, elegant card view.
Everybody's favorite view from our classic SharePoint staff directory web part.

Employee map view
COMING SOON
Get a birds-eye view of your organization.
Coming soon: Switch any search result to a scrollable, zoomable map to see who's working where. Connect with remote workers quickly. Or use the map view to check employee timezones, plan company events, or get an overview of your global reach.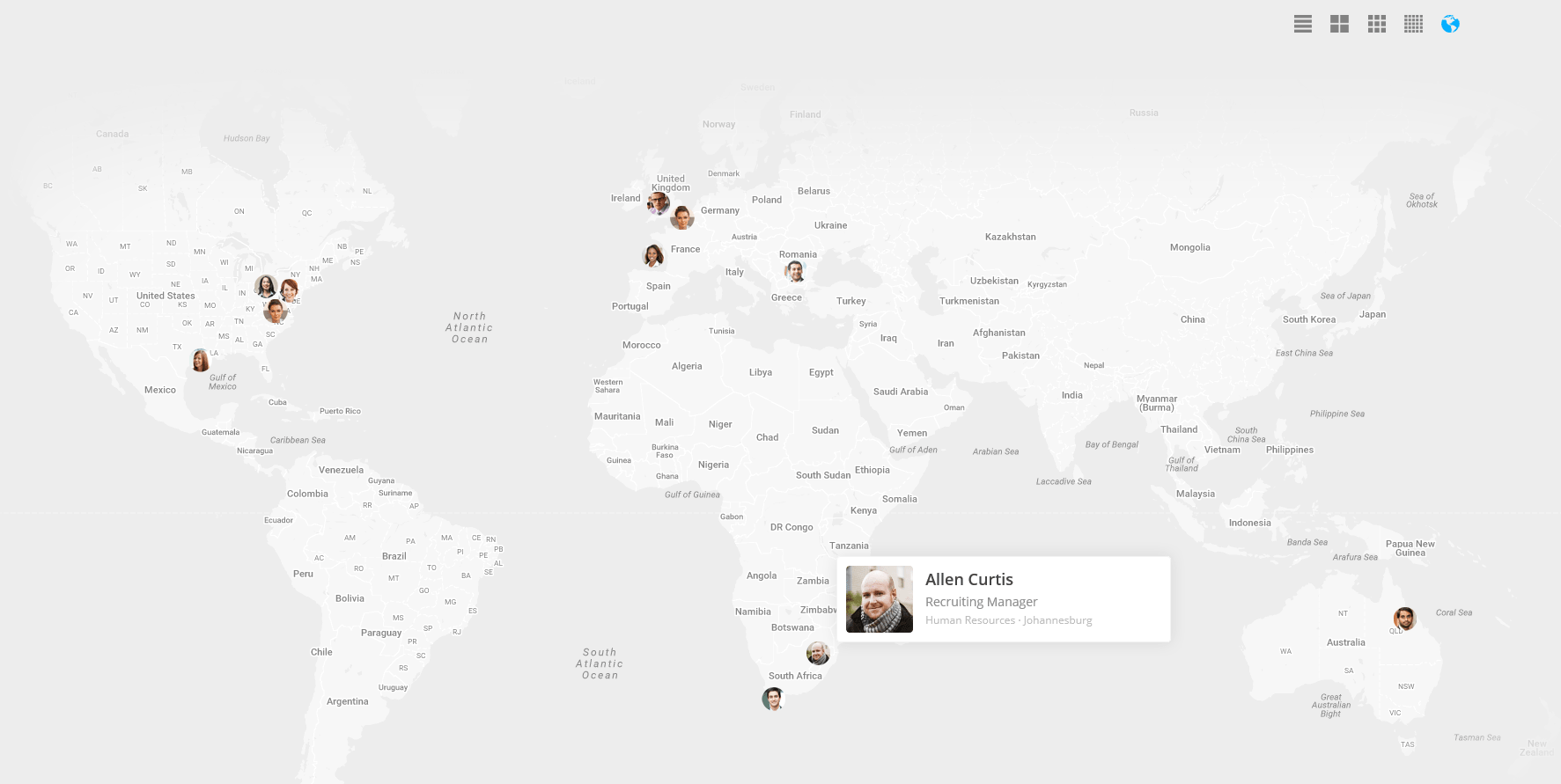 It's the little things.
5 things you'll love about our employee directory search.

You won't lose your place in the search results.
When you click on a person in the search results we show their profile immediately in front of your current view. Close it and you're right back where you were. So you can quickly flip in and out of different profiles without losing your place in the search results.

You won't spend minutes scrolling through irrelevant matches.
Search speed is important, but it's just a start. You also need to visually locate who you're looking for in your search results. OneDirectory keeps things minimal up front, so you don't get overwhelmed with too much info before you actually need it.

You won't have to wade through pages of results.
Pages are for books, not employee directories. OneDirectory leaves "Page 2" in the past and gives you a single, fast, easy to navigate search results page — and the person you're looking for is on it.

You'll feel like you're waltzing through your office.
We built OneDirectory to feel like you're walking through your real office. Everything is clickable, offering a fluid people browsing experience that your employees will love.

You'll get the feeling that every employee profile is special.
Employees aren't rows in a table or records in a database. With OneDirectory, we try to make each profile feel special; a digital work profile to represent your real work self.
People search loved by many.
Don't just take our word for it.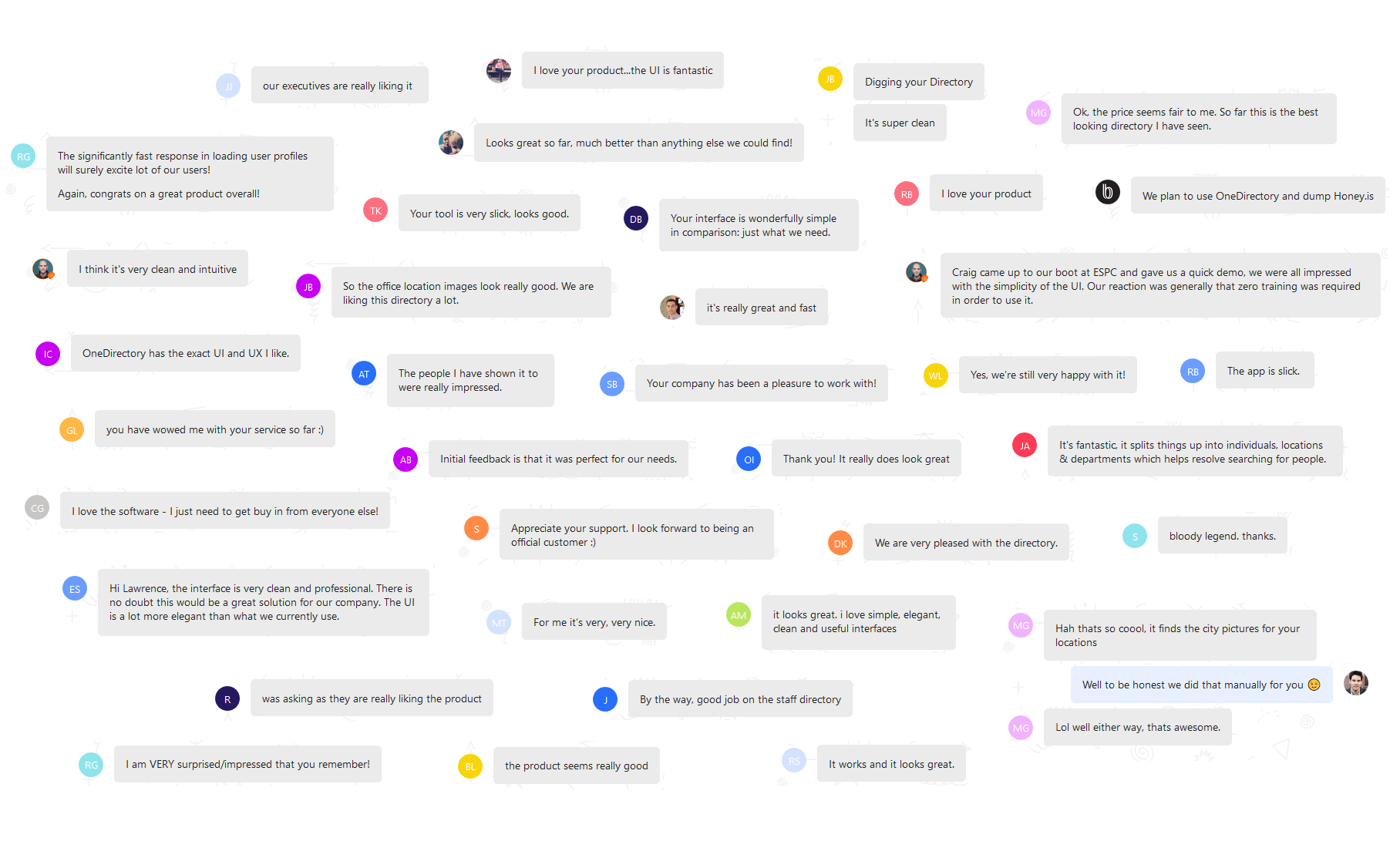 Get started with OneDirectory
See how our enterprise people search can help with our 14-day free trial.